Our Mission
We provide beautiful, live, dynamic music for special events, satisfying the client and entertaining their guests.
What We Do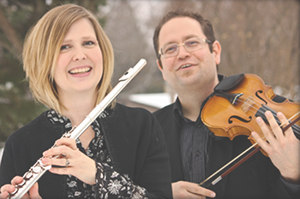 We are a live, duo of experienced, professional musicians. Using voice, flute, violin, guitar, piano, and percussion, we create inspiring performances of jazz standards, pop tunes, and light classical masterpieces. Our performance background comes from concert stages, small clubs, and houses of worship.
Our goal is to provide you with a unique and delightful musical experience for your special event or gathering. We offer a variety of musical styles and arrangements to suit any event and satisfy every client. We believe music can transform an event and bring you and your guests an inspiring experience. Contact us now for specific quotes and information.